SHRM-CP and SHRM-SCP Certification Exam Prep Course
Date:
September 12 - December 5, 2017 (No class October 31)
---
Schedule:
Tuesdays; 6:00 pm - 9:00 pm
---
Registration Deadline:
2017-08-29
---
Location:
CCSU Main Campus, 1615 Stanley Street, New Britain, CT 06050
---
Instructor:
Christina Danforth, SHRM-SCP, SPHR
---
Cost:
$1,250
---
Contact Hours:
36
---
Room:
TBA
Course Description
Offered in partnership with the Society for Human Resource Management (SHRM), the curriculum provided in the 2017 SHRM Learning System is designed by global subject matter experts and covers the entire SHRM Body of Competency and Knowledge™ (SHRM BoCK™). Throughout the program HR professionals are encouraged to acquire the Competencies and Knowledge they'll need to effectively perform their jobs and achieve career success. Our course is designed to help you learn and retain the material effectively and efficiently by combining the best exam preparation system with expert instruction and peer discussion.

Central Connecticut State University's program offers you a preparation course to help meet your needs and increase your success on the SHRM-CP and SHRM-SCP exams.
Benefits To You

You'll benefit from:

- An experienced, SHRM-certified instructor.

- The SHRM Learning System, historically ranked the #1 HR certification prep tool.
- Ability to acquire the knowledge and understand the behavioral competencies to help you prepare for the exam.
- A structured learning experience that keeps you on track.
- Opportunities to network and learn from your peers.
- Eligibility for tuition reimbursement.
- Earning up to 36 professional development credits (PDCs) if you are attending this program for professional development only.

Benefits To Your Employer

Certification benefits your entire organization:

- It demonstrates that your HR professionals have mastered the application of HR technical and behavioral competencies.
- Certification prepares your HR staff to assume greater leadership roles and contribute to the strategic direction of your organization.
- Exam preparation helps HR professionals bring new ideas to your organization that will help drive success.
- It helps create a common HR language that optimizes consistency and effectiveness.
- Certification is relevant worldwide, as exams cover the global SHRM BoCK™.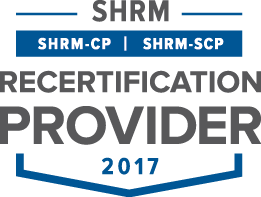 Our certification preparation course is designed primarily for individuals seeking SHRM-CP or SHRM-SCP certification. Certification is a great choice for HR professionals who want to:
- Increase their knowledge
- Advance their skills
- Earn recognition from the global community

Advance your career.
If you're not interested in certification but want to improve your HR skills, this course provides a comprehensive and accelerated option for professional development. Participants gain a generalist viewpoint, refresh key ideas and concepts, strengthen their understanding of core behavior and technical competencies and increase productivity in the workplace.
As an official SHRM Education Partner, we are able to build our course on the SHRM Learning System, giving you access to the most comprehensive, effective and up-to-date exam preparation tools available. The 2017 SHRM Learning System delivers:
- Effective and proven results. Candidates who use the SHRM Learning System consistently beat the average exam pass rate.
-One source for knowledge and application. All the study tools you need to understand, apply and engage with behavioral competencies and HR knowledge.
-Current and relevant content. The SHRM Learning System has been updated to align with the 2017 SHRM BoCK, the defined standard for knowledge and competencies required of HR professionals around the world.
-Convenient and 24/7 online access to your study tools from any mobile device, tablet, or computer.
The SHRM Learning System is comprised of four modules of study based on the SHRM BoCK: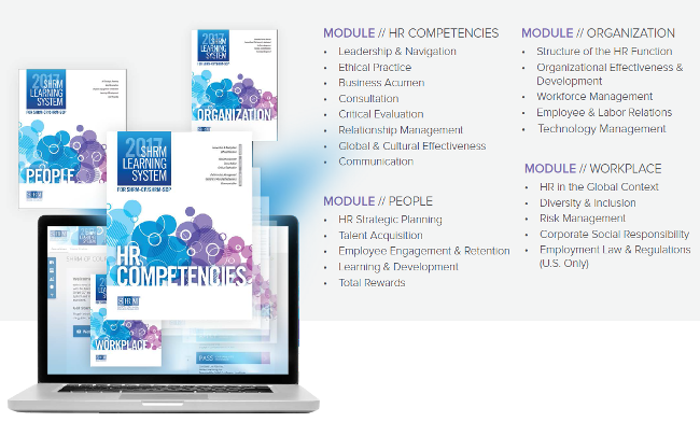 Instructor Information
Christina Danforth, SHRM-SCP, SPHR
Christina is an enthusiastic HR Trainer and Business Owner with over a decade of experience as a Human Resources professional. She launched her own training company called HR Jetpack providing online training for HR professionals. Christina has an MBA from the Isenberg School of Management at the University of Massachusetts, Amherst. She is an active SHRM member and regularly attends SHRM events. She holds a SHRM-SCP and SPHR as the Vice President and Co-Director of Professional Development at the HR Association of Central CT. Christina is also the Program Director on the board of the CT SHRM Council.
---